Red Lentil Chili
You won't even taste the fiber in this filling chili—all 12 grams of it.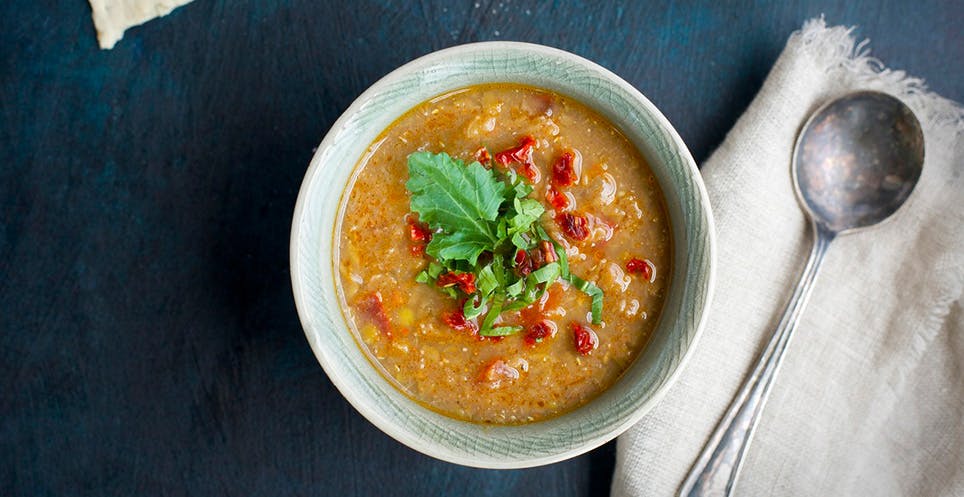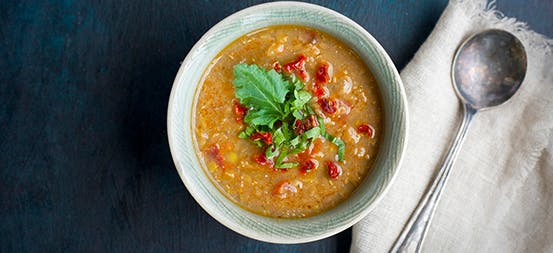 Makes: 4 servings
Prep time: 20 minutes
Total time: 1 hour
Ingredients:
Vegetable oil spray
1 large onion, chopped
3 cloves garlic, minced
1 pound ground turkey breast
3 cups water
2 tomatoes, chopped
1 sweet red pepper, finely chopped
1 stalk celery, chopped
8 teaspoons Benefiber Original
⅛ teaspoon cayenne
1 ½ teaspoon cumin
1 bay leaf
2 tablespoons chili powder
1 tablespoon cocoa powder
Heaping ¼ teaspoon salt
1 cup red lentils
Garnish:
2 tablespoons chopped red onion
2 tablespoons shredded low-fat cheddar cheese
Directions:
Heat large heavy-bottomed stock pot over medium heat, lightly spritz with vegetable oil spray, add onion and garlic and cook until golden brown, stirring regularly (about 8 minutes).
Add ground turkey to onion mixture and cook until brown, stirring regularly (about 10 minutes).
Add all other ingredients except for lentils; stir and bring to a boil.
Reduce heat and simmer for 20 minutes.
Add lentils and continue to cook for 15 minutes; remove bay leaf before serving.
Serve hot, dividing chili evenly into four bowls. Top each with ½ tablespoon onions and ½ tablespoon cheddar.
Nutritional Information (Per 1 Serving)
Contains 2 teaspoons of Benefiber (2 teaspoons = 3 grams of fiber)*
Calories: 376
Protein: 43g
Carbohydrate: 46g
Dietary Fiber: 12.3g
Sugars: 5g
Total Fat: 4g
Saturated Fat: 1g
Cholesterol: 71mg
Calcium: 98mg
Sodium: 305mg
Add fiber to your diet and save with a coupon.