Baked Pasta With White Beans and Tomatoes
A hearty meal that's quick enough for weeknights.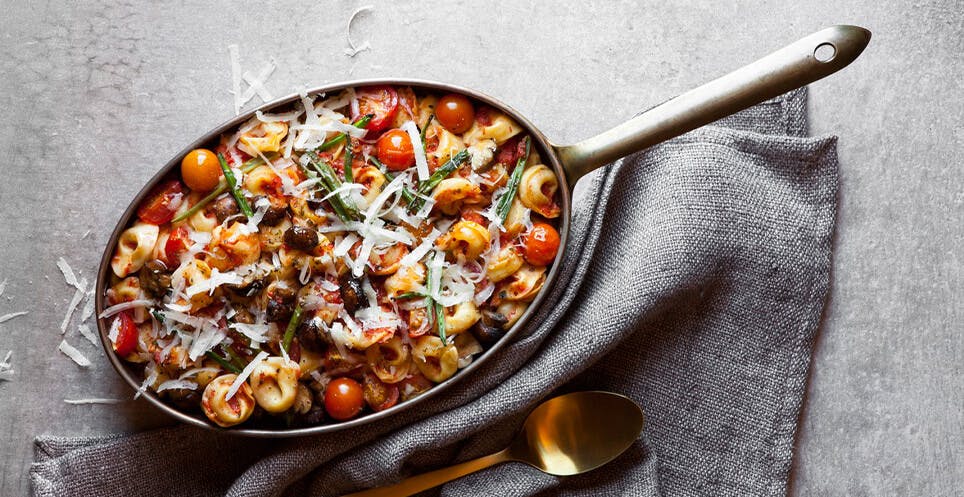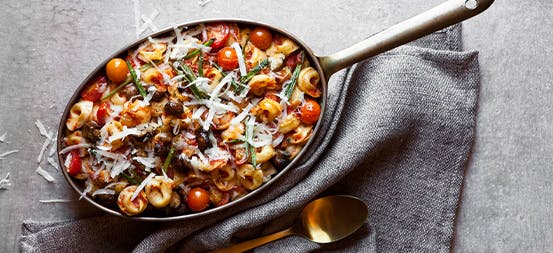 Makes: 4 servings
Prep time: 15 minutes
Total time: 45 minutes
Ingredients:
1 cup whole grain penne pasta (about 2.66oz)
1 large onion, finely sliced
3 cloves garlic, finely minced
2 sweet red peppers, sliced
1 ⅓ cups no-salt-added cooked white beans
8 teaspoons Benefiber Original
½ teaspoon salt
3 tomatoes, chopped
2 cups chopped spinach, chard or kale
2 tablespoons chopped fresh oregano
1 tablespoon chopped fresh rosemary
½ teaspoon cinnamon
1 tablespoon olive oil
Directions:
Preheat oven to 375 degrees.
Prepare the pasta according to package directions.
Heat a large ovenproof skillet over medium heat. Spray with cooking oil spray and add onion and garlic to skillet, stirring regularly for 3 minutes. Add red peppers and cook for 5 more minutes. Remove from heat.
In a large bowl combine white beans, Benefiber, salt, tomatoes, greens, oregano, cinnamon, red pepper mixture, 1 tablespoon olive oil, and the cooked pasta.
Place in a baking dish, cover with foil and bake for 20 minutes, remove foil and bake for an additional 10 minutes.
Nutritional Information (Per 1 Serving)
Contains 2 teaspoons of Benefiber (2 teaspoons = 3 grams of fiber)*
Calories: 271
Protein: 11g
Carbohydrate: 50g
Dietary Fiber: 16g
Sugars: 7g
Total Fat: 5g
Saturated Fat: 0.7g
Cholesterol: 0mg
Calcium: 143mg
Sodium: 314mg
Add fiber to your diet and save with a coupon.