Garbanzo Bean Curry
A can of garbanzo beans gets a healthy upgrade in this warming soup.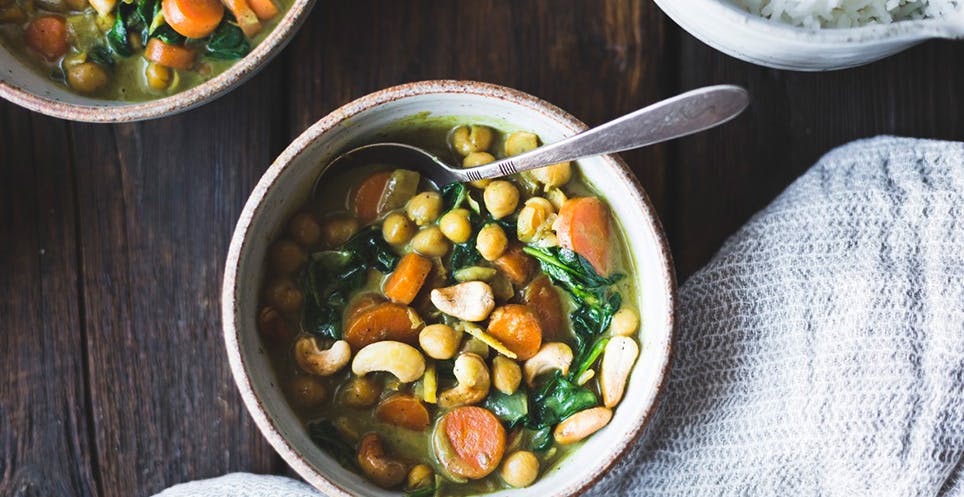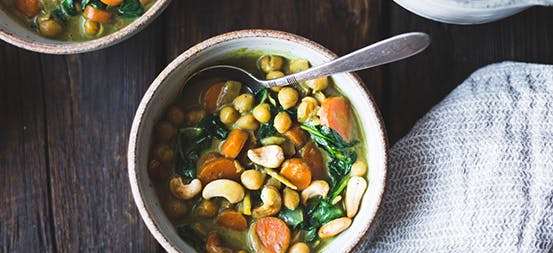 Makes: 4 servings
Prep time: 15 minutes
Total time: 35 minutes
Ingredients:
Vegetable oil spray
1 onion sliced
1 teaspoon cumin
1 teaspoon mustard powder
1 tablespoon fresh ginger minced
2 cloves garlic minced
¼ teaspoon cayenne pepper (optional)
2 large tomatoes sliced or 2 cups canned tomatoes no salt added
4 cups water
¼ teaspoon salt
Freshly ground black pepper to taste
1 teaspoon turmeric
8 teaspoons Benefiber Original
1 ⅓ cup cooked no salt added garbanzo beans (from dry or can)
½ cup cracked wheat
1 cup peas fresh or frozen
4 cups spinach
¼ cup nonfat yogurt
Directions:
Heat heavy bottom stock pot over medium heat.
Spray pot with vegetable oil and add onion. Sautee until translucent (about 5 minutes). Add cumin, mustard powder, ginger, garlic, and cayenne. Cook for 2 more minutes stirring constantly.
Add tomatoes, water, salt, pepper, turmeric, Benefiber, garbanzo beans, and cracked wheat and cook for 15 minutes.
Add peas and spinach, cook just until soup returns to a simmer. Top with yogurt and serve.
Nutritional Information (Per 1 Serving)
Contains 2 teaspoons of Benefiber (2 teaspoons = 3 grams of fiber)*
Calories: 398
Protein: 21g
Carbohydrate: 72g
Dietary Fiber: 21g
Sugars: 13g
Total Fat: 5g
Saturated Fat: 0.7g
Cholesterol: 0mg
Calcium: 175mg
Sodium: 211mg
Add fiber to your diet and save with a coupon.