Open Face Goat Cheese Sandwich
Goat cheese makes a great vehicle for taste-free Benefiber.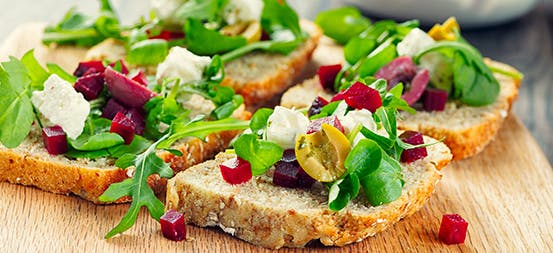 Makes: 1 serving
Prep time: 5 minutes
Total time: 20 minutes
Ingredients:
1 slice whole grain bread, toasted
½ cup fresh arugula
½ sweet red pepper (seeds removed) and cut into 8 slices
2 tablespoons goat cheese
2 teaspoons Benefiber Original
Directions:
Preheat oven to 375 degrees. Place red pepper on a small oven-proof tray and cook until red pepper is slightly browned and peppers are soft, about 15 minutes.
In a small bowl combine goat cheese and Benefiber.
To assemble sandwich, spread bread with goat cheese mixture, top with arugula and top with sweet peppers. Serve.
Nutritional Information (Per 1 Serving):
Contains 2 teaspoons of Benefiber (2 teaspoons = 3 grams of fiber)*
Calories: 167
Protein: 8g
Carbohydrate: 21g
Dietary Fiber: 6g
Sugars: 6g
Total Fat: 6g
Saturated Fat: 3.8g
Cholesterol: 14mg
Calcium: 124mg
Sodium: 214mg
Add fiber to your diet and save with a coupon.