Mussels With Tomato, Basil, and Garlic
Simple, delicious—and packed with fiber.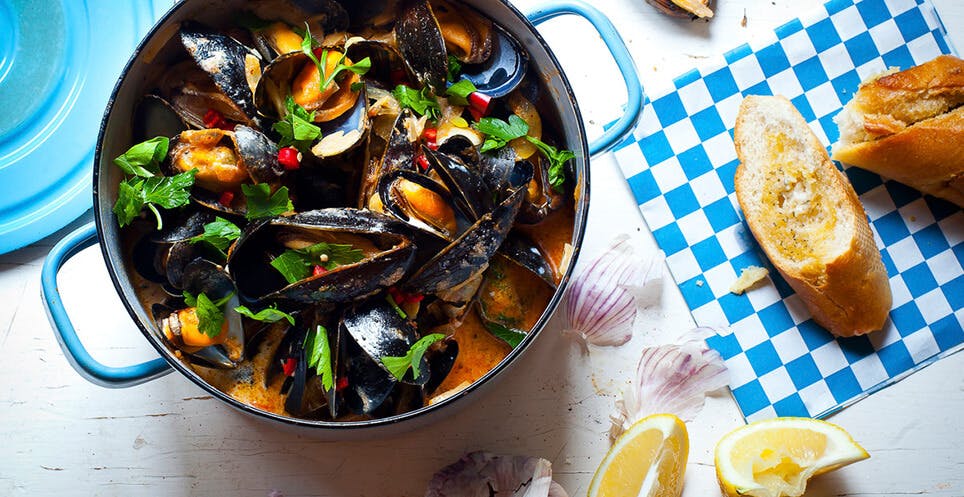 Makes: 4 servings
Prep time: 10 minutes
Total time: 20 minutes
Ingredients:
1 ½ pounds mussels (will yield slightly less after discarding open mussels)
2 tomatoes chopped
1 cup roughly chopped basil
¼ cup finely chopped onion
4 cloves garlic minced
1 cup hot water
8 teaspoons Benefiber Original
Directions:
Fill a sink ½ full of cold water. Add the mussels and toss them around. Pull the beards and scrape off any barnacles from each mussel (inspecting them to make sure that they are tightly closed). Discard any open mussels. Do not wash until ready to cook.
Put the tomatoes, basil, onion, garlic, water and Benefiber into a large non-reactive pot. Stir until Benefiber is dissolved. Add the mussels and cover. Cook them over high heat until you can see the steam forcing its way out from under the lid, shake the pot and cook for an additional 5 minutes. Check to see if the mussels have opened. If not, return lid immediately and cook for another 3 minutes.
Using a slotted spoon, remove the mussels into individual serving bowls, discard any mussels that did not open.
Bring the liquid the mussels were cooked in to a boil.
Pour the liquid over the mussels and serve immediately. Serve with a bowl on the side to discard shells and a spoon for the broth.
Nutritional Information (Per 1 Serving):
Contains 2 teaspoons of Benefiber (2 teaspoons = 3 grams of fiber)*
Calories: 124
Protein: 13g
Carbohydrate: 13g
Dietary Fiber: 4.4g
Sugars: 2g
Total Fat: 2g
Saturated Fat: 0.5g
Cholesterol: 28mg
Calcium: 57mg
Sodium: 292mg
Add fiber to your diet and save with a coupon.