Bean Thread Noodle Salad
Packed with veggies, this salad offers 10g of dietary fiber per serving.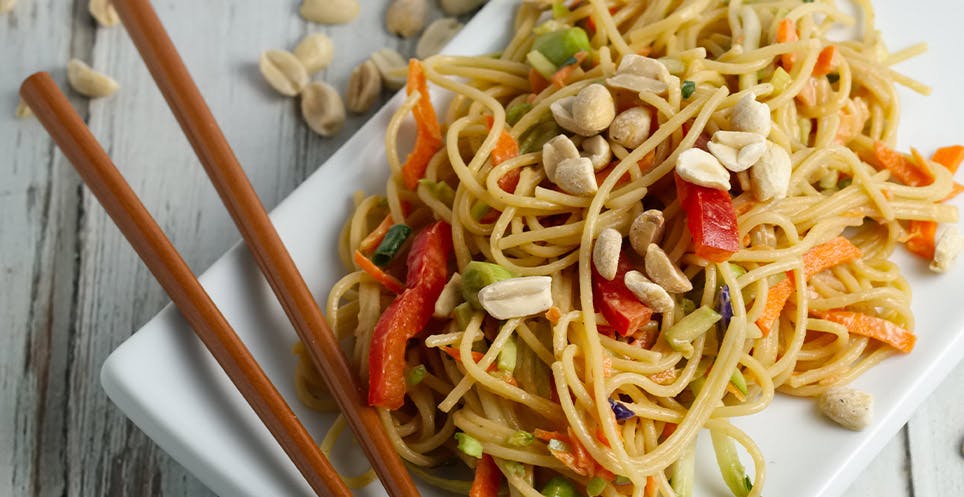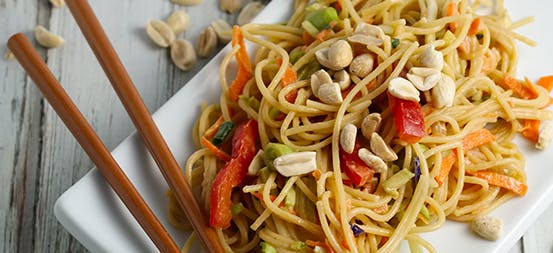 Makes: 4 servings
Prep time: 10 minutes
Total time: 20 minutes
Ingredients:
3 cups chopped rotisserie chicken meat, skin removed, meat peeled from the bone
1 cup fresh orange sections
6 oz. bean thread noodles
2 teaspoons sesame oil
1 cup shredded carrots
1 cup sliced cucumber
2 tablespoons finely chopped spring onions
2 tablespoons sesame tahini
1 tablespoon rice wine vinegar
2 tablespoons orange juice
8 teaspoons Benefiber Original
¼ teaspoon salt
Cayenne pepper to taste
½ avocado cut in four slices
Directions:
Cook bean thread noodles according to package directions. Toss with sesame oil and set aside.
In a medium-size bowl, whisk together tahini, vinegar, orange juice, Benefiber, salt, and cayenne to taste. Mix thoroughly and set aside.
In a large bowl, combine chicken, orange sections, bean thread noodles, carrots, cucumber, and spring onion.
Gently toss dressing with salad ingredients, top with avocado, and serve immediately.
Nutritional Information (Per 1 Serving)
Contains 2 teaspoons of Benefiber (2 teaspoons = 3 grams of fiber)*
Calories: 508
Protein: 33g
Carbohydrate: 58g
Dietary Fiber: 10g
Sugars: 7g
Total Fat: 16g
Saturated Fat: 3g
Cholesterol: 93mg
Calcium: 96mg
Sodium: 388mg
Add fiber to your diet and save with a coupon.