Cherry Peanut Butter Smoothie
Frozen cherries add a tart hit to this classic smoothie.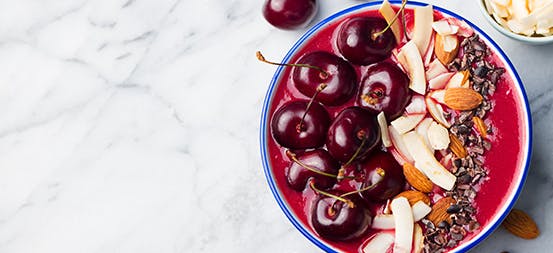 Makes: 1 serving
Prep time: 5 minutes
Total time: 5 minutes
Ingredients:
1 cup vanilla soy milk
1 tablespoon peanut butter
1 cup frozen cherries
2 teaspoons Benefiber Original
Directions:
Combine all ingredients in blender and blend until smooth, about 1 minute.
Nutritional Information (Per 1 Serving):
Contains 2 teaspoons of Benefiber (2 teaspoons = 3 grams of fiber)*
Calories: 280
Protein: 11g
Carbohydrate: 35g
Dietary Fiber: 7.4g
Sugars: 24g
Total Fat: 12g
Saturated Fat: 2.3g
Cholesterol: 0mg
Calcium: 327mg
Sodium: 170mg
Add fiber to your diet and save with a coupon.