Is Fiber Good for You? Yes! Explore Fiber Health Benefits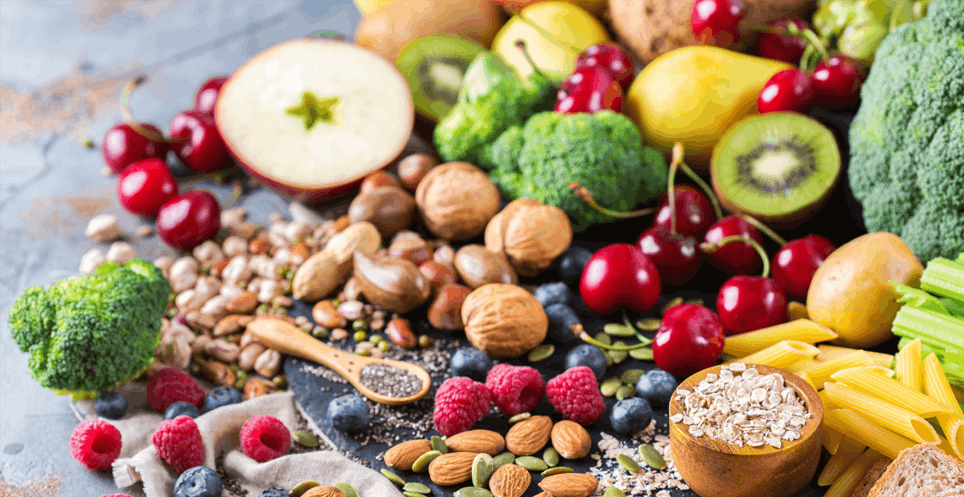 You might ask, is fiber good for you? The answer is yes! According to research, a diet that is rich in fiber has several health benefits, including: Helps support healthy cholesterol levels, blood sugar levels, aids in weight management and helps support regular bowel movements.1 At its most basic level, fiber is the structural part of plant foods like fruits, vegetables and grains that can't be digested by human bodies.2 It can be found in a variety of food sources. Read on to discover why fiber is good for you, and find out about specific fiber health benefits.
Types of Fiber

Not all fiber is the same! In fact, there are two main types of fiber: soluble and insoluble. Soluble fiber dissolves easily in water. It's found in foods such as oats, nuts, beans, lentils and blueberries. Soluble fiber helps to support healthy blood glucose levels.3 Insoluble fiber, on the other hand, does not dissolve in water. Foods like whole wheat bread, whole grain couscous, brown rice, legumes, carrots and cucumbers contain insoluble fiber. Insoluble fiber, sometimes referred to as "roughage," helps promote regularity.4
Fiber Health Benefits
There are a range of fiber health benefits. Let's start with soluble fiber. Soluble fiber helps slow down digestion and aids in feelings of fullness.5 If you have the tendency to overeat at meals, or if find yourself tempted by unhealthy snacks in the afternoon, consider including more soluble fiber in your diet.
Insoluble fiber is beneficial to your health as well. Insoluble fiber holds onto water to produce softer, bulkier stools.6
Both soluble and insoluble play a role in supporting your digestive health. Fiber-rich fruits and vegetables also offer their own health benefits beyond fiber. Most are good sources of vitamins, minerals and antioxidants. So in addition to fiber, you can reap other benefits from healthy fruits and veggies!
Prebiotic Fiber: What You Need to Know
Prebiotics are types of soluble fiber that serve as food for the good bacteria that live in your large intestine. Prebiotic, soluble fibers, such as wheat dextrin, can help to support immune function in the gut.7, 12
Foods with High Fiber Content & Ways to Increase Fiber Intake
You might find it a struggle to incorporate enough dietary fiber into your diet with your typical routine. The FDA recommends adults get 28 grams of dietary fiber a day.8 There are several ways to get more fiber in your diet, including eating more fiber-rich foods. Generally, foods with high fiber content are whole grain breads and cereals, vegetables, fruits, nuts and legumes.9 You can incorporate more prebiotic fiber into your diet by eating more of the foods below.
Some foods with prebiotic fiber content include:
Wheat bran and wheat bread
Beans (navy, white, mung, lima, etc.)
Chickpeas
Jerusalem artichokes
Bananas
Tomato
Garlic
Asparagus
Cabbage
Watermelon
Grapefruit
Dried fruit (dates, figs, etc.)10-11
If you want to increase your fiber intake, you can gradually incorporate more foods with higher fiber content into your everyday diet. Try eating whole fruits instead of juice and replace white bread, rice and pasta with brown rice, whole grain bread or whole wheat pasta. Choose cereals that have whole grains as their first ingredient, and snack on raw veggies instead of chips or chocolate. Another strategy to get more foods with high fiber content is to substitute beans or lentils for meat in several meals like chili or soup.
You can also look to fiber supplements to increase your intake of fiber. However, you can reach out to your doctor or healthcare provider if you have any concerns when making widespread changes to your diet. Learn more about your daily fiber intake in our Benefiber resource center.
Show ReferencesHide References