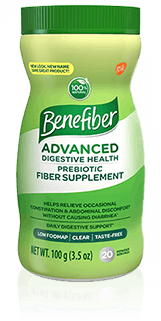 Benefiber Advanced Digestive Health

Benefiber Advanced Digestive Health is a 100% natural prebiotic fiber supplement that's taken daily to promote digestive health. It also helps to relieve occasional constipation and abdominal discomfort*. It's a truly regulating fiber that's both gluten-free and low FODMAP.*

Available in 20 servings.
Uses
For ages 12 and above, use 2 times daily. Stir 1 tablespoon of Benefiber Advanced Digestive Health to 4-8 oz. of beverage or soft food (hot or cold). Stir well until dissolved (up to 60 seconds.)
For ages 6 to 11, stir in 1 tablespoon once daily.
For under 6 years, ask a health professional before use.
Not intended for chronic gastrointestinal symptoms, speak to your doctor if symptoms persist.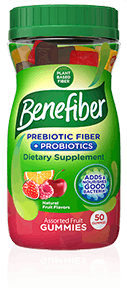 Benefiber Advanced Digestive Health Prebiotic Fiber + Probiotics
On-the-go prebiotic fiber and probiotics, Benefiber Advanced Digestive Health Prebiotic Fiber + Probiotics helps support gut health, ease abdominal discomfort, as well as occasional constipation without causing diarrhea.*