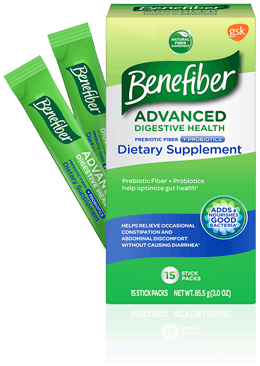 Benefiber Advanced Digestive Health Prebiotic Fiber + Probiotics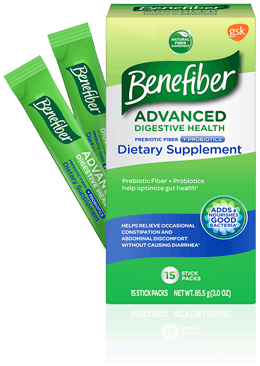 On-the-go prebiotic fiber and probiotics, Benefiber Advanced Digestive Health Prebiotic Fiber + Probiotics helps support gut health, ease abdominal discomfort, as well as occasional constipation without causing diarrhea.*
Available in 15 ct
Uses
For ages 12 and above use 2 times daily, stir 1 stick pack into 4-8 oz. of any beverage or soft food (hot or cold). Stir well until dissolved (up to 60 seconds).
For children under 12 years, ask a health professional before use.
Not recommended for carbonated beverages.
Supplement Facts
Serving size: 1 stick (5.7g)

Get More Fiber in Your Life
Try Benefiber Original, plant-based prebiotic fiber that's available in different sizes to fit your lifestyle.
*These statements have not been evaluated by the Food and Drug Administration. This product is not intended to diagnose, treat, cure or prevent any disease.
Use as directed.
#Percent Daily Values (DV) are based on a 2,000 calorie diet.
††Provides an effective level of bacteria (1 billion CFU)
LactoSpore® is a registered trademark of the Sabina Corporation.